Are you bored by traditional sex toys? Heard of Electro-Charged Toys? Have the crops, whips, and canes run their course? Are you looking for something to jolt your sex life? Need something to take charge as your new favourite toy? Prepare to be shocked! Step into the world of toys that will shock, electrocute, and excite! Now hold on; these toys aren't your average Electro-Stim Toys (that's an entirely different article that's on it's way). 
These toys are the next step up. Shock collars. Cattle Prods. Neon Wands. This is for those of us looking to blur the line between pleasure & pain and then ignore the line altogether.  Let's find your new favourite toy!
Electro-Charged Toys
ElectroErotic – Neon Wand
Do you remember those Plasma Globes you'd see at toy stores as a kid?
Those wavy lightning-esque bolts emanating from the central sphere of seemingly pure energy, hypnotised 8-year-old me. This fondness had been completely forgotten. But was re-invigorated by the sleek but incredibly enticing packaging of the ElectroErotic Neon Wand. Touting the same bright purple glow and arcing bolts of energy, this is clearly the grown-up version of a childhood favourite.
The Neon Wand, once it's in your hands, is a sight to behold. Looking more like a tool you'd find in a garage than a sex toy, the cable flowing from the back to connect this toy to mains power is your first warning this is not something to be taken lightly.
Coming with 4 attachments to vary your pleasure (or more likely, pain), the Neon Wand does exactly what it shows on the packaging; shocks and excites!  I only got to be hands on with this toy in the bright light of day.  But I'm sure in a dimly lit room (or complete darkness!) is a sight to behold.
In regards to the sensation the Neon Wand provides
It's a supercharged version of that very same buzz from those aforementioned Plasma Balls. Jolting, surprising, and incredibly fun. It's definitely not painless; on more sensitive areas.  This toy is going to provide quite the shock. Overall, with the adjustable power knob on the back of the handle, is easy to use. It is perfect to spice up a night that might need a jolt of electricity!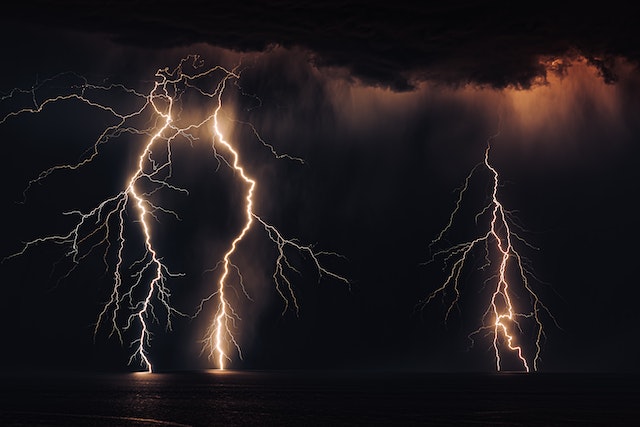 Doc Johnson – The Stinger
This is probably the most daunting looking toy on the list.  The Stinger, rather aptly named, is a cattle-prod-esque toy, perfect for some intense shocks in all the right places.
Stinger is no joke. It flashes bright with electricity once it gets close to your skin; and once it's on your skin, you'll feel it (and that's putting it lightly!) Not as sharp of a sensation as the Neon Wand, The Stinger is nonetheless terrifying to look at.  A long red bar, tipped with metal contacts, ready to shock and surprise before it even touches your skin. 
This toy fits perfectly into countless fantasies for many, and is perfect to let your partner know that you're in charge. Powered with 2x AA batteries.  The Stinger still packs a punch, and can surprise even the most seasoned kinksters. As with any electronic toy, take caution, and please, PLEASE, keep it away from the water.
Like, duh.

Master Series – Jolt
Term "The Big Dog" has probably never had a better assignment than this toy.  This toy, the Master Series "Jolt", is The Big Dog.
Made in the style of a dog shock collar, to say this toy packs a punch would be an unforgivable understatement.  Perfect for the pet play fetish, the power this toy packs is unrivaled.  As seen on our stores instagram, this toy is bound to zap the disobedience out of anyone.  Controlled by a long distance remote (up to 250m!), the Jolt will keep you in line, and on edge. 
I'll say, I tried it.
Greatly dreading the pain, I could never have understood what was in store for me when I pressed the shock button. I held the collar up to my neck, afraid, but smiling.  Oh how naive I was. I pressed the button, and instantly, I dropped.  My legs buckled. I lost control of my body.
Oh how I had underestimated this toy. The floor met me, and I met the floor, and I hadn't even pressed it for long. I could never have expected the sheer unmistakeable shock I felt in that moment. I laughed it off, but I stood up a changed man. This toy is not a toy, no. It's a tool. An extension of the hand of Zeus. All powerful. With the power of lightning encased in a plastic housing attached to a nylon collar, the Jolt is bound to be your new best friend.
These toys are all a sight to behold.
Powerful, painful, and spectacular, you're bound to find a new level of pleasure with these toys. At the moment, they're all in stock at Adultsmart in Kogarah but don't hold off. These toys are bound to fly off the shelves soon. Come get your hands on them, and see where the power of electricity takes you.
Happy Shocking!