The history of BDSM is rich, and colourful and this article serves to provide an overview of BDSM culture and its histories. Many people outside the culture of BDSM do not necessarily understand the intricacies of it. They don't understand the power dynamics of a BDSM/kink relationship. Or what it means to be introducing bondage and kink to your partner.  Or what it means to be a submissive and a dominant.
They certainly have no way of understanding what it means to be a part of the culture. Consider this article your primer to that.
History Of BDSM – Where Does Kink Culture Come From?
BDSM is often argued as to what the definition of it is in terms of the intended interpretation of it is. Most of the interpretations of BDSM will centre around the idea that it is a specific type of erotic behaviour. That is characterised through the employment of an unusual sexual practice of fetish.
BDSM is often characterised by two primary fetishes.  That being the idea of bondage play being restraints, as well as concerned with the infliction and receiving of pain.
This, whilst accurate, is not reflective and encompassing of BDSM as a whole.  It should be expanded to include many unique and interesting subcultures that are within BDSM.  Such as rubber enthusiasts, extreme body modifiers and the use of body modification, use of chastity devices on both men and women and animal roleplay.
Despite all this, the third element of BDSM is dominance and submission.  This is predominantly evident within most BDSM and kink sexual practices.  We'll unravel the term BDSM later on through the series of unpacking BDSM. But let's begin with the history of BDSM and kink.
BDSM and Kink
The term was originally coined in 1969.  It is a compounded understanding of the three primary practices within kink.
Bondage & Discipline.
Domination and Submission.
Sadism and Masochism.
As with most sexual practices and patterns of behaviour – the activity was not suddenly practiced in 1969. But they created a name for an activity that had been in existence for many years prior to that moment.
Sexual behaviour in this fashion is certainly not something new. With archaeological evidence dating BDSM back to at least 5000 years ago.  Anne Nomis, writing in The History & Arts of the Dominatrix in 2013, cites a discovery of Sumerian tablet from the Mesopotamia period.  Detailing ritualistic fetishization of worshipping the goddess Inanna, the god of love, fertility and warfare.
It was also common in the Western World
With details emerging from Spartan traditions known as diamastigosis the ritualistic flagellation of young men. As well as an erotic story involving flagellation for sexual arousal in Satyricon by Petronius.
Kama Sutra also details the permitted types of hitting/striking during sexual intimacy.  It is attributed to the contribution of the spread of many forms of sexual practices since being written in the 3rd century by Indian scholar Vatsyayana Mallanaga.  Ttranslation of which literally means the Treatise on Pleasure.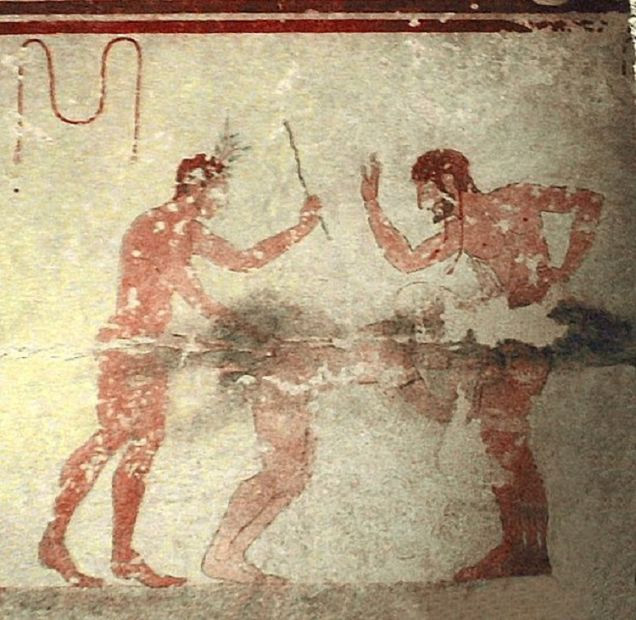 Practice of BDSM in the 20th Century
BDSM as a culture in modern times generally stands as anathema to normal sexual practices within modern culture. With that there have been several key events within the 20th century that has helped developed the kink and BDSM community.
Sexual progressiveness of a pre-World War Weimar Germany saw an expansive extension of European Fetish culture that had existed in the first few decades of the century.  Primarily depicted through the fetishization of specific clothing. Culture during this era has often been stated by historians as sexually depraved with smut culture reigning.
Concurrently, the rise of the kink culture was profound during the United States in the Depression Era. It was not until the conclusion of the Second World War that things started to kick up a notch. And it saw the birth of the leather community wearing and using leather gear and toys. And beginnings of an incredibly popular blossoming gay subculture.
War was in many ways was romanticised
And the romanticisation of the war stemmed from the people that had been active and fighting within the war.  War caused much social upheaval. A sub-section of society that had grown accustomed to the sense of camaraderie and a fraternity had to come back to a changed lifestyle.  There was no hierarchy within normal society. Many people had grown accustomed to that.
Sub-cultures started springing up all over the place and the community blossomed into fruition rapidly.
With the Sub-culture permeating into mainstream society through artworks. Such as the photography of Irving Klaw and the rise of the damsel-in-distress pin up artworks that featured prominent models such as Bettie Page.  Sex, sexuality and eroticism was growing exponentially.  Artists and popular culture were continually trying to push the boundaries.
Marlon Brando is The Wild Ones is often quoted as an influencing factor that had taken on sub-cultures of kink and then depicted that in the mainstream. Suddenly, there was an audience.
War and the Ancient beginnings of Kink
There is no doubt that the war changed the social interactions of the community.
Some of this manifested itself into old guard BDSM, or BDSM groups that prided themselves on values, traditions and hierarchies that existed within the war.  Today's kink community sees very little engagement of such values.  That's not to say that the values and traditions are non-existent. Just that they have evolved to keep up with modern society.
BDSM in the modern sense, is said to have stemmed from three primary sources. According to Dr Robert V. Bienvenu PhD., and whom dedicated his studies to the origins of fetishism and sadomasochism.
Those three primary influences he describes as the European Fetish movement of 1928, the American Fetish movement in 1934 and the Gay leather movement of 1950.
BDSM however predates this timeline.
In Ancient Greece and Rome between the years of 4000BC and 500BC there are both writings and artistic representations of flagellation, ritual flagellation that were depicted with an erotic sub-text.  One of the earliest depictions of this lies in the Etruscan Tomb of Floggings near Tarquinia.  Badly damaged paintings can be seen in the image above with the Etruscan Fresco.
Sure, the erotic nature of such depictions can be debatable. We are also missing much of the social context that would have occurred around such rituals. But considering that many of the sexual toys and tools used within BDSM and particularly surrounding the idea of restraints from Medieval culture. Then we can safely determine that the practice of BDSM activities is certainly not something new within human sexual practices.