Have you ever been restrained during sex play? If you have answered 'Yes' you will probably be aware of what I am going to write below and may have been A Damsel In Restraints.  If you have answered 'No' then I suggest you read on. Adding BDSM Role Playing to an existing relationship can be the spark that gets a couple back on track. And creates new found admiration or respect and trust in your partner.
For me, light subjugation is the most freeing and attractive type of BDSM role playing.  I am not into pain or heavy bondage. But having my lover restrain me gently in comfortable cuffs gives me the feeling that I am ready to surrender absolute control with pre-set boundaries. It makes me simply feel sexually free and liberated with without stressing over anything.
I do not mind even adding a blindfold. Due to the sensory deprivation of sight it allows my other senses to heighten and thereby not limit my experience giving me one hell of a ride.  Cuffs have to secured but not in a manner that they are too tight or give me discomfort in any way.  When we first started delving into the world of light bondage we used silk cuffs.
What's So Exciting About Restraints?
One of the exciting things that I experience when being bound is the fact that I cannot touch my lover at all during the process. He totally takes control of the action and his soft touch against my vulnerable body sends sensual shivers up  my spine each and every time.
For me to put my total trust in him that he will treat me right and not abuse the total control I have given him, whilst relinquishing mine makes us a much stronger couple. Since experiencing this bondage play we have become a team and there is very little that can come between us.  These experiences have special meaning to us, and like all games we have made the rules first.
For me the most important part of BDSM is making the rules.
First and number on rule is to have a safe word.  A word that either of you say and it means stop – No if's or buts!  Then the boundaries of your play should be set.  Safety and consent are priorities as well as pre and aftercare.  It opens up a whole new world of loving and caring for each other.  Below I have listed some tips on what to do when you have your partner tied up.
Tips To Follow When You Are Tied Up
Have your partner wear a set of wrist and ankle cuffs around the house when you're not home, as a reminder of what's in store when you do get home.
Wear the cuffs discreetly as you go about your normal routine outside the house, as a secret reminder of the things to come. This is particularly easy to do with ankle shackle cuffs, which can easily be concealed beneath clothing.
Wear a set of cuffs while you sleep, giving your partner an invitation and an opportunity to restrain you during the night or in the morning.
Going into your beau or spouse's wardrobe and getting a few bow-ties out and laying them on the bed. Tie your partner up to see what it's all about.
Whether you enjoy just your hands or legs being restrained or both it is an experience that I certainly treasure and trust that you will too.
Some couples will even swap roles
I guess like they did in 50 Shades. That one time the man can be the dominant, and the next time a switch of roles happens and the female is.  There is a term for it and it is called a 'Switch'.  Switching roles whilst in the middle of a scene or session is very rare. But it is very common between couples for switching to take place on separate sessions.
Planning For Your First BDSM Session
My personal advice to anyone wanting to experience this out of a long term relationship (and even those in one) is before you begin your first session you do the following things.
Read and study everything you can on Bondage and BDSM.
Find out what you want to do first.
Take your time learning how to do it safely.
Be careful of the type of attention you attract.
Going into unkown territory will make this all seem daunting and scary when that is not the purpose of it all. Remember not to go directly into "50 Shades of Gray" region for your first time. That can be an exceptionally overwhelming circumstance even for the most sexually experienced.
Begin light.
Work from that point. Appreciate investigating and taking in you and your partners cut off points. This ultimately is about HAVING FUN and playing it SAFE!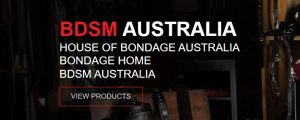 A Damsel In Restraints
Restraints and ties can be very attractive and they come in all types of material and styles.
They can be in comfortable silicone, faux leather, rope, genuine leather, steel, silk and be welcoming or intimidating.  Most cuffs will have a locking mechanism to ensure that they stay closed. And the 'pet' stays bound and restrained.  Most also have 'D Rings' or 'O Rings' that allow the restraints to be joined together. A lead be attached or the sub be restrained to a pillar or some other securing station.  There are many BDSM shops online and designers that sell a myriad of variations at reasonable pricing.
One of my favourite cuff sets
Is the 'Ballsy Blue Leather Restraints' made by the manufacturer Hell's Couture.  I love these cuffs because they are supple enough to be worn comfortably but solid enough to keep me secured.  All my life I have enjoyed colorful things.  And a vibrant blue color sets it apart from the standard Black or Red. These cuffs are securely structured. After fastening them to the ankle and/or wrist, they can be attached to other objects via the O-ring attachments.  Beauty of having these secure rings is that they can be attached to other bondage devices for the more adventurous like a hogtie set or a leg spreader.  I find these are much safer and more comfortable that the option of using metal handcuffs or ankle shackles.
So if you want to be daring and explore your sexuality more I highly recommend adding restraints to your sexual lifestyle. It has an important part in the history of BDSM.