Maybe you need Bondage 101 Tips if it ever happen that you received a strong spank, and instead of getting angry or upset, you actually enjoyed it? Why does this occur? There is a simple scientific explanation for these feelings. When we feel pleasure or pain, our body releases a hormone called dopamine (also known as the hormone of happiness and wellness) so we are able to confront this situation. Therefore, we can say there is a thin line that divides pain and pleasure. This is what BDSM (Bondage, Discipline, Sadism, and Masochism) is all about.
It consists of discovering new forms of pleasure that may come from different activities, such as spanking, biting, blindfolds, being tied up, etc. If you are still reading this it's because you have some interest in BDSM. So, let's say you are incited by the world of BDSM and want to try it out, but have no idea where to start? Have a read of our bdsm guide for beginners and dive into these useful tips.
Bondage 101 Tips for Beginners
1. Discuss your Desires and Limitations
If you are attempting something new in bed, it is important to communicate it over with your partner. Whether you have known that person three years ago or three months ago. There are some aspects to take into consideration when you want to create a domination-submission relationship. First of all, it is recommended to form a contract.
It may sound boring or unnecessary, but think of it like that spark that will fuel your fire! You will be able to talk about your fantasies, desires, what you are willing to try. And, of course, what are your limits, what you are not willing to do yet.
It is important to discover what are your boundaries before you jump in the BDSM wagon.
How are you willing to go? There is an assortment of toys you can use. Handcuffs, gags, nipple clamps, being tied, etc. They can be used as rewards or punishment; you decide. Thus, a contract will help you and your partner understand what is expected from this new approach. And what can be done with prior consent.
2. Safe Word
A safeword is crucial in any dominant-submissive relationship. You have to choose a word that only you and your partner know which means that you have reached your limit.  An ability to trust your partner is a necessary aspect to have fun. For example, if you are being spanked by your partner and each hit is becoming more aggressive to the point that you are no longer feeling pleasure. Then say the safeword and he will know and stop.
3. Discover Your Role
One common practice in BDSM is the submission.
It might not be clear in the beginning. But as you are starting to live your fantasies and your desires are being accomplished you will come to understand what role you will like.
You may be dominant. Being in control spikes your senses. Giving orders to someone gives you a power that is indescribable. Having someone at your mercy ignites a flame inside you that you did not you had.
Or you are submissive. You like to beg for attention and you are in need to serve someone. Nothing brings a bigger thrill than have someone do with you as they please.
You might already know what role you fit best. But it important to experiment with new experiences to fully understand your needs.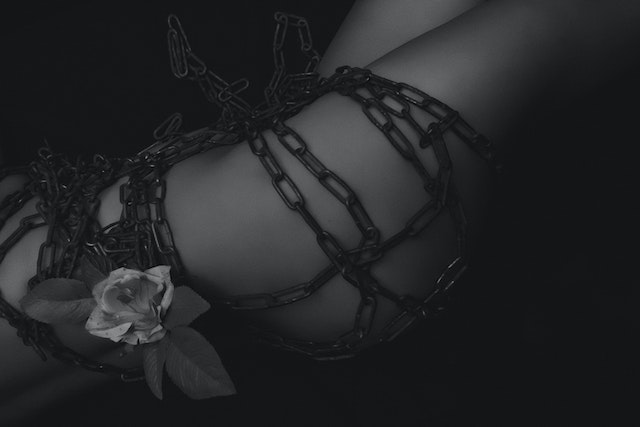 4. Role-Playing
Role-playing is a great outlet to understand what are your fantasies and desires. It is a way to break from the monotony and give happiness and fun to our minds. For example, you want your partner to dress up as a policeman and handcuff you to the bed. And punish you for being a bad boy or girl. Or you want to dress as a nurse and do a thorough physical examination to your partner.
All these scenarios will help ignite any spark or help bring a bigger understanding of your desires.

5. Dirty Talking
It is another activity that you can utilize to start to set the mood. Imagination plays a huge role here.
It is recommended to start with something light and easy. Such as asking your partner to say what they want to do with you, how are they going to do it and vice-versa. You can use some phrases like: "Go faster!" "Don´t stop!" "It feels so good! "Harder!" "Faster".
This will stimulate your senses and loosen you up. With just a small whisper in your ear "Make me!" can be enough to provide a sensual and exciting atmosphere for you and your partner.
6. Aftercare
Some people forget this when they want to enter in the BDSM world. It is basically all the care that is essential after a session. Depending on how intense your encounter was, the aftercare might vary. It is advised to do this since it is a fundamental moment to recover from the physical and emotional wear that comes with a session.
First, you must remove all the objects or items that were utilized in your session. Then, you and your partner discuss what do you feel after the session. What did you like, what was not pleasurable, and what you are willing to try out again. This helps you understand the scenario and what can be improved in your next session.
Remember, this is a game that is limited to the bedroom. Mutual consent is required to respect the boundaries from each other.