BDSM has seen a massive surge in popularity in the last few years and, it is without a doubt, rightfully justified taking bondage to the next level. Bondage is a fantastic way to enhance the bedroom experience. To turn what would normally be a very monotonous sexual session into a very exciting and empowering experience.  That is sure to provide benefits that will last long before you go to dreamland.
Even though bondage has become very popular in the last few years, there are still a lot of people that either never tried it.  Or are just starting to dip their toes into this wonderful world of empowerment and submission.
Thinking of experimenting with bondage and have read the bdsm guide for beginners? Or you have already tried it but you would like to take it a whole step forward?  Today we will talk about how you can take bondage to the next level as a beginner and what types of bondage toys can help you or your partner take it to the next level.
The Essence Of Bondage
Before we explain all of the things that you can do to truly heighten the bondage experience, it is of utmost importance that you understand what bondage is actually about.  Regardless of whether you have already done it or not. There are many misconceptions out there about bondage.  Honestly, they tend to be a detriment to the actual experience.  So it is critical that you debunk this misinformation by understanding what is at the core of bondage and what it actually is.
First thing to debunk is that bondage is not necessarily implying sadomasochism.  Bondage does not have to be about pain at all.  In fact, for most people, it is about the physical restraint.  About being consensually tied up with the use of rope, bondage tape.  And others, all for erotic, aesthetic and sensory means.
In short, bondage is all about being physically restrained and getting pleasure out of that, whether it becomes part of the sexual session, foreplay or in between.
Taking The First Step
Now that you understand what bondage is and what is at its very core, you can finally take it up a notch and start enjoying bondage at a much deeper and more intense level.
By now, you most likely already physically restrained your partner or were restrained by them.  Whether that was by means of handcuffs, or a couple of ropes tied up to the bed.  Naturally, this is usually the first step into bondage for quite a lot of people.  There is absolutely nothing wrong with that.  But once you get a taste of bondage and you enjoy it, taking it a step further is only logical.
Surely you must be asking yourself, however, how are you meant to take it a step further? What is it that you can do to make it that much better of an experience?
Well, for one, the use of your surroundings can actually be quite beneficial for any bondage session. Even though the focus of tying up your partner is what's at the core of bondage.  Making use of your surroundings, furniture and other aspects of the room you are in can make it feel like a whole new experience.
Using Furniture
Part of what can make bondage such an unforgettable experience is to use your imagination. Tying someone up to the bed is amazing, for the first couple of times but it can quickly become quite boring.
By completely tying up your partner to a chair, sofa or anything in between, you will be providing them with a whole new setting, position and experience that they are most likely not used to. You can still take control of them and show your dominant side, all while having them sat down and tied up.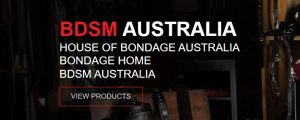 Swings And Poles
This next tip is for those that are looking to make bondage a definite part of their lives.  That have tried this experience and loved it so much that they never want to go back to a time where they didn't incorporate that into their sexual lives.
Swings and poles are fantastic assets to use when having a steamy bondage session because they provide the sensuality that comes with bondage itself.  But they are also amazing to tie someone up to and completely taking control of them. With a pole, your partner will be standing up, not able to move and will just have to be incredibly submissive (with consent of course).  And with a swing, you can just take them on a ride, swinging them back and forth either into you or away from you.
Swings and poles are truly fantastic ways to experiment with bondage and are always bound to give you and your partner a great time.
Play With Gravity
A fantastic way to take bondage to the next level (but one that still mostly relates to those that want bondage to be a constant part of their sexual lives) is the use of gravity.
This could also be tied with swings but this is a much more extreme way to do it.
By having a hatch on the ceiling where you could attach the rope to, you could have your tied-up partner swinging around.  Which provides a wonderful view of their fantastically tied up and naked body.  While keeping them wanting and begging for more of you as you take control of them.
Bondage To The Next Level
Finally, one of the simplest ways to take bondage to the next level is to actually experiment with the different techniques to tie your partner up.  Most people that start getting into bondage will start by tying only their partner's hands and feet. But there is so much more that can be done.
There are so many intricate and convoluted designs that just look amazing.  And provide a much greater sense of restraint that both you and your partner will absolutely adore.
Bondage does not have to be overly complicated. All you need is a little bit of imagination and an open mind.  And you can truly turn every bondage session into an absolutely unforgettable memory. You can find a massive range of bondage toys to take you to the next level available from BDSM Australia.